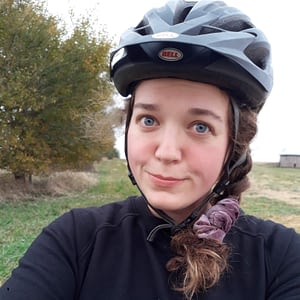 Hello! My name is Nathalie Corbett. I am currently working in Springfield, IL as a Music Director for Saint Katharine Drexel Parish.
I've been wanting to participate in Biking for Babies for a long time now and I'm so excited to be a part of the team this year! Being involved with the Pro-life movement has been important for me ever since I joined the local Crusaders for Life group when I was 15 years old.

When I was 18 years old, being Pro-life meant something even more to me. I finally heard the story behind the adoption of both myself and my twin brother. Our biological mother was facing an unplanned pregnancy with twins, was diagnosed with cervical cancer, and the doctors encouraged to abort us. She was brave and chose to give us a shot at Life and kept us in her womb for as long as she could. I'm grateful for the gift of Life that my biological mother allowed my brother and I to receive.

Since hearing this story, my goal became simple. To share my story, to spread the message of Life, and to stand up for those who can not, the unborn, just as my biological mother did for us.

Biking for Babies will allow me to participate in the Pro-Life mission in a way that I haven't before. It will allow me, with the help of others in the group, to spread the message of Life in a different way. I'm ready to head into this Pro-Life Pilgrimage with all of the others who will be joining me this year.
Fundraising Progress
Goal: $4,100 | Raised: $1,972 | Progress: 48% | Updated: 10/01/2021