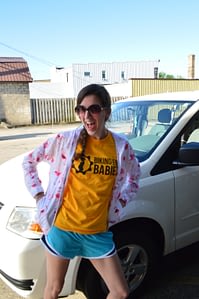 Hey there! I'm so glad you stopped by to learn about Biking for Babies!

I am Erin Sprenger, a second year missionary with Biking for Babies. I'm currently living and teaching third graders in St. Joseph, Missouri.

During the ride, I'll be supporting my riders by keeping them hydrated, fed, energized, and on course while they cycle over 800 miles through Colorado, Kansas, and Missouri. I will also be coordinating our stops along the way and helping communities organize nightly events to share our mission. I'll be offering up early mornings, late nights, and driving through Kansas for all the mothers and fathers who sacrifice their time and energy for their children.

Join me in supporting our pregnancy resource centers who continuously supply the women and men who come to them with the knowledge, skills, and material goods they need in order to tangibly choose life for their child.

Jesus needs us to be His hands and feet in the pro-life movement. Let's give it our all and give glory to God!
Fundraising Progress
Goal: $5,000 | Raised: $1,289 | Progress: 25% | Updated: 10/01/2021